Two members of the custom fabrication team in action.
This custom reamer request falls under the "if you can dream it, we can build it" category. In this case, a customer contacted the custom team with a specific request. Along with a standard set 20-, 28- and 38-inch Maxi Barrel reamers, the customer specified a unique reamer design, tailored to a large job in the northeast United States.
Read more custom reamer stories.
The design, dubbed a Flat-Faced Cutting Reamer, featured:
An open body design;
Bi-directional, to support both push and pull reaming;
Flat cutting face;
Massive box tube internal support structures designed to deliver large fluid volumes inside the stabilizing ring.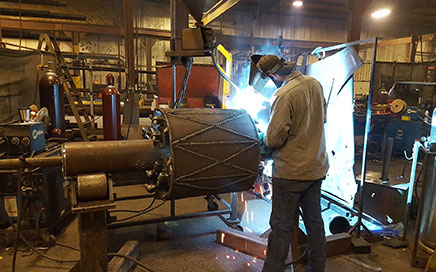 Hard-facing the 28-inch Flat-Faced reamer.
The order called for a total of nine reamers: three standard stabilizing Maxi-Barrels and six Flat-Faced Cutting reamers, ranging in size from 24-, 32-, to 40-inches in diameters. All reamers were mounted to 9.5-inch shafts.
See StraightLine reamers.
Along with the challenge of executing an entirely new design—including sourcing parts unique to the design and building the necessary fabrication jigs—the order called for a tight 3-day delivery window on the first three reamers, with the balance due in 14-days.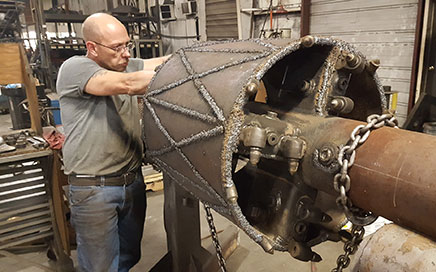 Given the short production window to fulfill the order, this was an "all hands on deck" effort.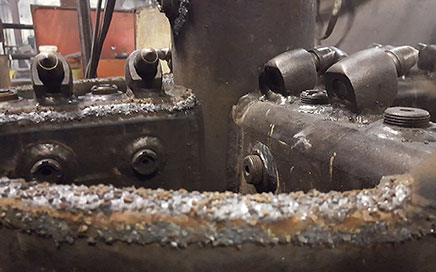 A close up showing the generous hard-facing, cutting teeth and fluid jets.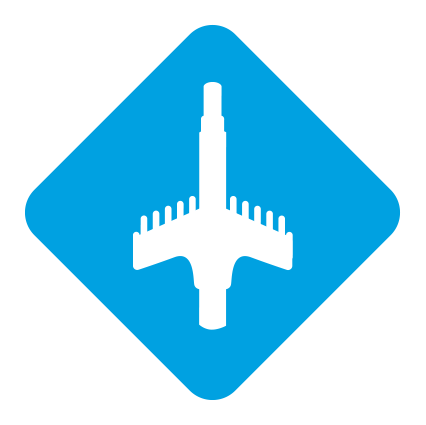 Let's Build A Reamer