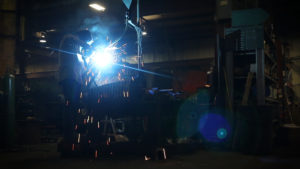 When it comes to drilling holes in the ground, unpredictability is the norm. That's why StraightLine maintains a team of professionals dedicated to building custom solutions for the toughest HDD challenges. The team was recently put to the test with a rush order for a large diameter tool on a very short (i.e. "I need it now") turn time. In addition to engineering and fabrication challenges involved with producing a massive 48-inch diameter All-Terrain reamer, sourcing the enough material put the StraightLine procurement department in a particularly difficult position. Rising to the challenge, the custom solutions team successfully delivered a custom reamer in 4 business days. Illustrating the epic nature of this reamer, consider:
• Diameter: 48-inches
• Weight: Just over 4,600 lbs.
• Length: 81-inches
• Number of Carbide Cutters: 54
As imposing as the tool was in stature, success always comes down to "does it work?" The answer came 19 hours after the tool shipped. The contractor, installing 36-inch HDPE pipe for a southern Oklahoma water project, reported the 2 ½ ton tool successfully cut through the last 210-foot segment of hardened shale. The concern of being able to turn the reamer with the Vermeer 100X120 was quickly dispatched, due to the tools ability to efficiently cut and remove the spoils.