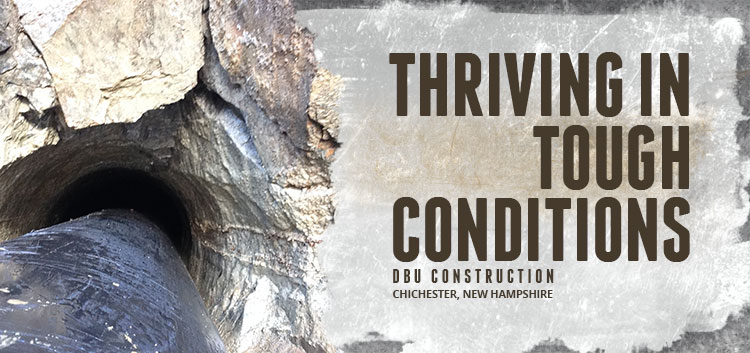 When operating in a state where the official moniker is, "The Granite State," it's safe to assume that most jobs will have a heavy dose of rock—really hard rock. For Chichester, New Hampshire-based DBU Construction, moving from sand, to clay, cobble and then to 30,000 psi granite—all in a single shot—is a typical "day in the office."
As tough as the conditions are, DBU principle Adam Towne, says drilling in rock has a silver lining: there's a steep learning curve which creates significant barriers to entry for competitors. Part of the learning curve, says Towne, involves finding the right tool for the job, as well as a tooling partner willing to listen and design solutions specific to the job.
Since 1999, DBU Construction has relied on with Source HDD / StraightLine HDD to deliver the right tooling.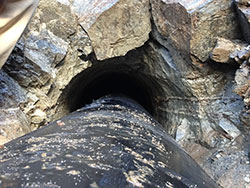 A typical "day in the office" for DBU Construction.
"At first," recalls Towne, "it was selling used rigs and equipment to them. Then we started looking at their tooling. Things just sort of took off from there." Today, each of DBU's three crews rely on rock-proven StraightLine HDD tooling.
Listen, Collaborate, Solve
A recent job illustrates the unique partnership. Located in Southern New Hampshire, the 300-foot bore included chunky cobble and about 200-feet of nasty solid granite. The utility to be installed was a 12-inch water main, fitted inside a 16-inch outer sleeve.
After receiving a conditions briefing from the DBU team, a 3-part solution was developed.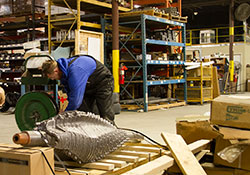 Shipping out: DBU and StraightLine collaborated on a reamer designed to maximize cutting/grinding surface area.
After opening up a 6-inch pilot with a 5-inch RockEye hammer, a StraightLine 12 ¾-inch All-Terrain reamer was specified for the up-ream. Custom-designed for the job, the reamer incorporated a very shallow slope in the segments. This design feature added significant length to the tool. The effect was dramatic: with greatly increased cutting and grinding surfaces engaging the rock surface, the tool sliced through the granite with surprising ease.
Another unique feature of the tool centers on the use of carbide impregnated segments in both push and pull construction. This strong, bi-directional design feature eliminated binding during frequent hole swabbing—a must in intense rock conditions.
Next, the DBU crew moved to a 22-inch StraightLine hole opener. A long-time favorite of the DBU crews, StraightLine hole openers feature bodies stout enough to withstand large hole up-sizing, condition-specific cone geometry and a pushback cap designed to eliminate snagging on push back.
The 3-part solution worked flawlessly. "After talking over our challenges with this bore—what we were seeing on the ground—the StraightLine team went to work and delivered a reamer and hole-opener based on our needs. Both tools performed exceptionally well," says Towne.
A Partnership Forged In Rock
After over seventeen years in business together the partnership with Source: HDD/StraightLine has been a great asset for DBU Construction. Towne elaborates: "Everything they do for us—be it used rigs or custom tooling—works as advertised. The tools stand up to the rock we are in. And, most importantly, they listen. It's the closest you can get to having an in-house tooling shop—without the hassles."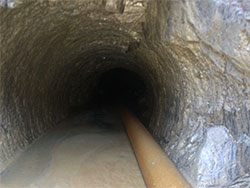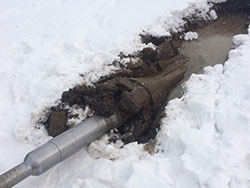 Join Our Mailing List Below